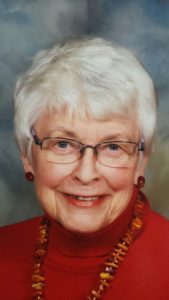 Joan Newlin Poole was asked to join the Board of Directors of NCFHS in the mid-1980s. Both her father, Algie Newlin, and her late husband Herbert Poole had been instrumental in reviving the Society after a hiatus of 25 years in 1979, and she was then, and still is, a strong believer in the importance and relevance of its mission.
She served as the Society's President from 1986 to 1991. The following year the Society adopted Seth and Mary Edith Hinshaw's idea for a five-year celebration of the North Carolina Yearly Meeting's 300th session. Joan was asked to be overall coordinator. This involved coordinating the Tercentenary's 14 committees, chairing and taking minutes for the Steering Committee which met monthly for seven years, two years of planning and five years of annual events, exhibits, quarterly study guides, coordination with NC Yearly Meeting Conservative, and each meeting's Tercentenary representative. More than 900 attended the opening of the 300th session. Each meeting carried a banner with the year of its founding and members dressed in costumes of that era.
She served on the Editorial Board of the Society's journal, The Southern Friend, from 1991 until it's last issue was published in 2007. On the board of the NCYM Publications Board for 20 years, she also served on the Society's Publications Advisory board from its inception to its end, as most of the Society's books were jointly published with NCYM.
When the NCFHS Seth and Mary Edith Hinshaw Fellowship Award and the Herbert L. Poole Writing Award were established she served on the NCFHS Fellowship Committee that evaluates submissions and determines the winners of the awards, and has until the present time. For many years Jo also chaired the NCFHS Special Events Committee that arranged annual meetings and other events.